How to stream to Steam?
Steam is a video game digital distribution service by Valve. It's a website where you can find a large selection of video games. But it is also possible to broadcast live stream sessions on the platform.
Broadcast your stream on Steam with LiveU Studio will allow you to:

- Custom your live game with specific graphics and overlays.
- Make remote live competitions with guests.
- Invite remote commentators during your live game session.

One last point, and not the least... It is therefore an ideal solution to create a strong link with the members of your community.
Have you decided to go live on Steam? We'll tell you how to do this:
After joining the group, create an RTMP token with the button at the bottom of the setup page.
Next, copy the recommended RTMP link + Stream Token and paste it in a "Custom RTMP" publishing point on LiveU Studio.
Open your LiveU Studio event and Add a publishing point (1&2).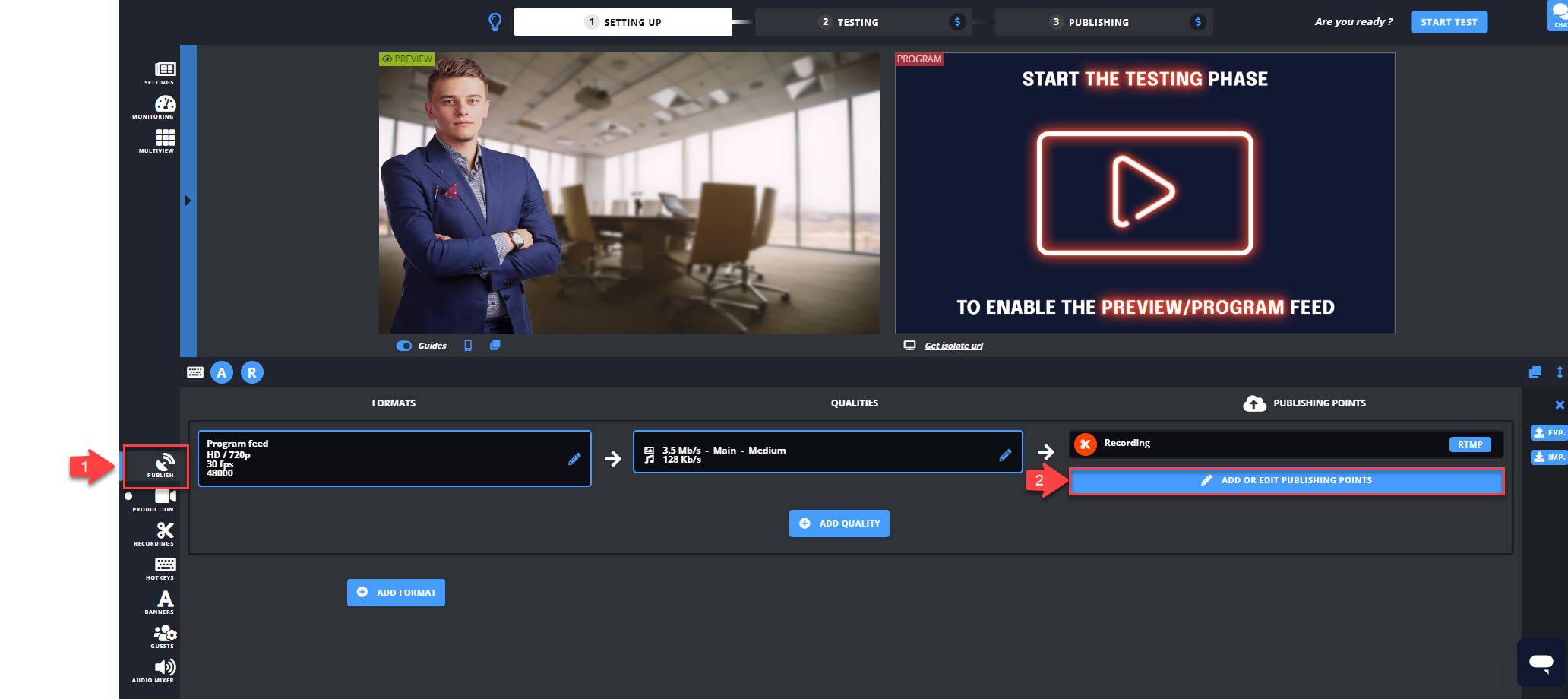 Select a custom "RTMP/RTMPS" publishing point.
Paste the RTMP URL and Stream Token (=Stream Key/Name) provided previously by Steam.
Select the publishing point.
When you're ready to stream, just Start Test and then Start publishing & record.
Remember to enable public access for viewers at the Steam Setup page in order to get your stream to game communities.
Note: Steam requires 16:9 resolution (1280x720, 1920x1080). If your stream doesn't get published, try adjusting your scene parameters.
Steam Video encoding requirements

Codec: H.264
Profile: High
Level: 4.1
Frame Rate: 30 FPS or 60 FPS
Frame Ratio: 16:9
Keyframe interval: 2 seconds
Maximum bitrate: 7000 kbps CBR
Audio encoding requirements

Codec: AAC-LC
Maximum bitrate: 128 kbps
Can't find the right answer?
Contact the LiveU Studio Support team via our Live Chat.