SEND MY FEED IN MULTIPLE FORMAT/RESOLUTION
Sending a live stream with LiveU Studio on multiple destinations at once and in different formats will allow you to meet the broadcasting requirements of all platforms you want to broadcast on.

Broadcasting your live event in different formats and to different destinations will allow you to:

- Reach a maximum number of people with your live event regardless of their preferred live platform.
- Create multiple live streams for each destination from an all-in-one tool.
- Transcode your feed regarding the live standards asked by each destination points.
- Improve your position on social media' feeds and your referencing on Google search.
With the LiveU Studio cloud production studio, it's easy to send your feed in multiple qualities to different broadcasters (transcoding).
For example, If you want to send your feed to Twitch in 60 FPS 1920x1080 and the same feed to Facebook in 1280x720 30FPS just follow the instructions below:
Create a live or join the Control Room of an existing live.
In the "Publish" section (1).
Edit the "Program feed" setup (2). Please note that the settings applied to the "program feed" determine the maximum quality/format/resolution of your live.
Set up the highest desired quality in the Program Feed menu and save it (3). Please note that you can't create another format higher than this one, another way the output of the said format will not be optimal.
Add a publishing point (4).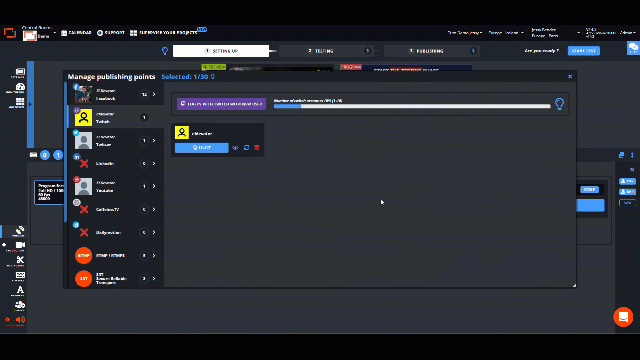 Your first feed (1920x1080 60FPS) is now set up (5).
Set up the second feed (1080x720 30FPS) with the "Add Format" button (6).
Set up the desired format (7) and save it.
Select the "Add Qualities" button (8).
Set up your output qualities and save it.
Add your second publishing point (9).
Congratulations! You have set up the two following publish points:
1920x1080 60fps to Twitch
1280x720 30fps to Facebook
Now you can start the test and/or start publishing your live (10).
Can't find the right answer?
Contact the LiveU Studio Support team via our Live Chat.