Add or edit a lower third title (advanced module, with automation)
New feature: you can now create Lower Thirds and display your inputs names natively in our studio.
On the first layer of your LiveU Studio you will find an default input called Lower Thirds that you can activate or not.
A lower third is a text title or graphic overlay placed in the lower left part of your live stream/input.
By enabling or editing a lower third title in your workflow, you will be able to:

- Display contextual information on your live stream, such as a person's name, a location, or some other pertinent information.

To enable or edit a lower third in your production:
Select the Lower Thirds input in the Production studio by clicking on it (1).
Enter the Banners management interface to edit your lower third settings and content (2).
From the Banners menu you can :
Choose to display or not the Lower Thirds text messages (3).
Choose to display the names of your inputs (4).
Per default, when the Show names button is selected in the Banners menu, we display the names of all the live sources and VODs inputs enabled. But you always have the possibility to disable the display of the name of a particular input, to do this go directly to the "name" menu of the input you don't want to display, and uncheck the "show name" box.
Add or edit your lower thirds messages (and the possibility of choosing which one or those to display)(5).
Change the display Style of your lower third/input names (6).
Example
Please note that in case of overlapping a lower third on an input name caption, the input name caption will be automatically disabled.
To go further you can also :
Enable mutiple cycling messages and select the display time (7).
Import or export your Lower Thirds messages (8).
To enable mutiple cycling messages and select the display time.
From here you can also create some Hotkeys and try switching between the scene. You will see that the name of your input/guest will be automatically displayed on the screen according to the selected guest/input.
Please note that you can also save in an hotkey the Lower thirds input :
Content settings (=Lower thirds messages/font size and position).
Style settings (=font/color/background opacity).
Please note that you can also push a message received on the Live chat directly to a Lowerthird. See example bellow, I pushed the message received from a remote guest to a lower third in my program output.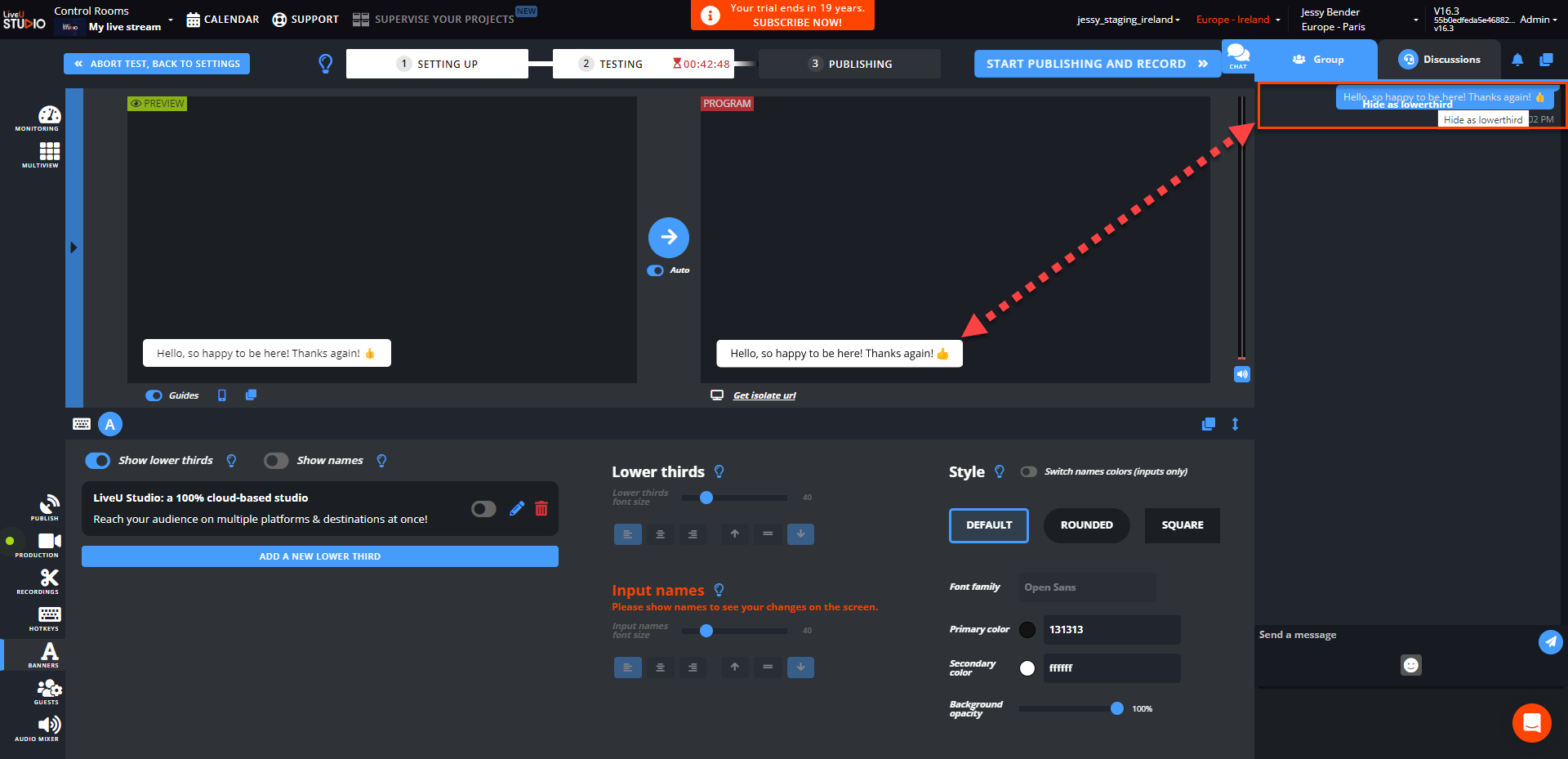 Can't find the right answer?
Contact the LiveU Studio Support team via our Live Chat.