Add or edit a playlist
With LiveU Studio, you will be able to mix your live content with pre-recorded one to make your live session as dynamic as possible!
Add or edit a playlist in your LiveU Studio will allow you to:

- Enhance the content you already have using.
- Manage advertising clips as a media playlist during your live stream.
- Select specific video, audio & CC tracks on the fly.
- Broadcast best-of or marathon re-runs in just a few clicks.
To add a playlist please follow this steps:
In the Production (1).
Add a new Input (2).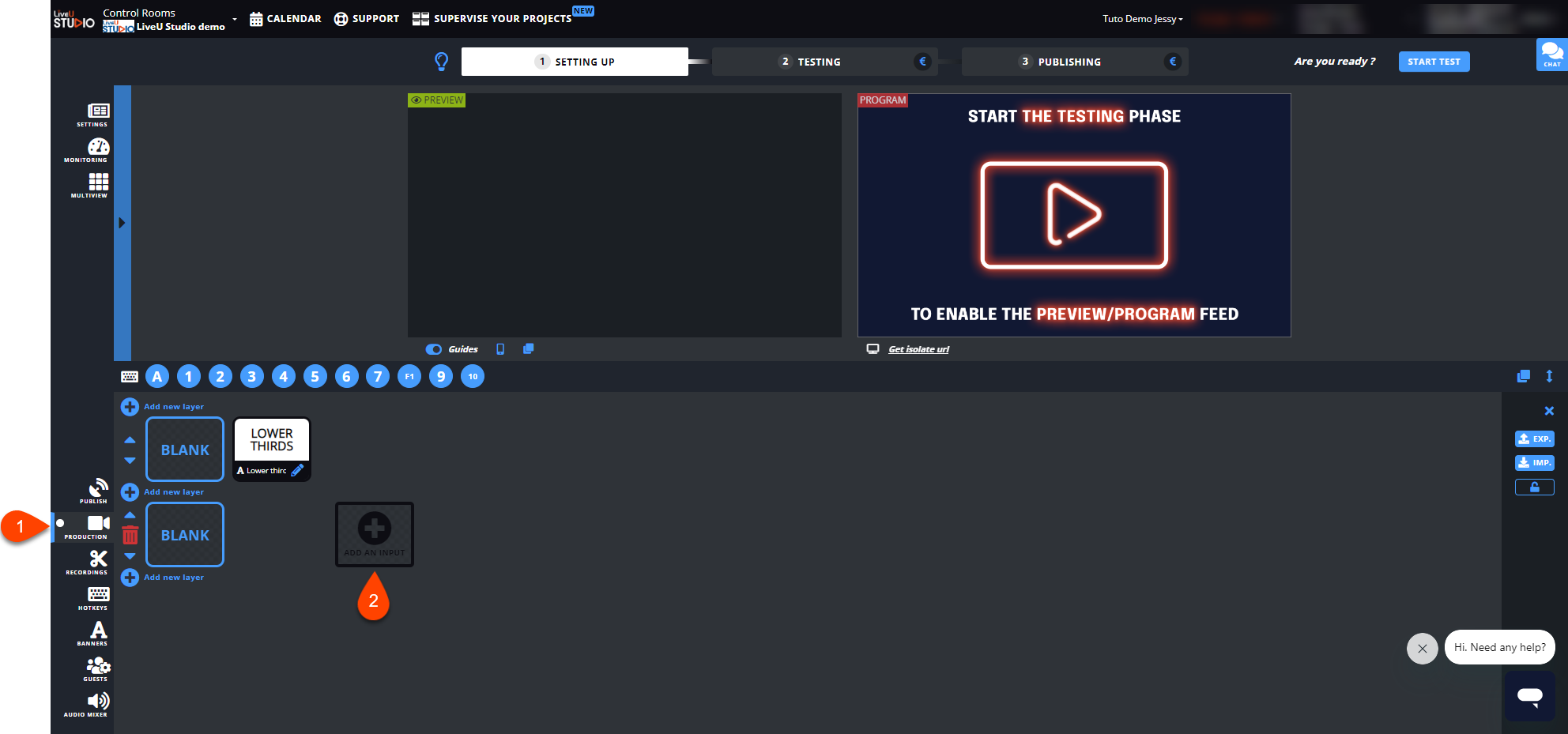 Go to the Video/Playlist section (3).
Select Add playlist (4).
The playlist management interface will open up, you can now:
Add your media(s)*
Order them
Check all parameters **
Launch the playlist -> play button
Media(s):
You can import media(s) from :
Your local files (Max 5Gb)
URLs (No size limit)
Your media bin
Parameters:
Play count: Number of times the video (or playlist) will be displayed.
Loop: You can loop all the playlists or just one media.
Empty: Delete definitely all media on the list. 
Export: This will export you a file in an LiveU Studio (.elp) format.
Import: Note that you can only import a playlist that was previously exported via LiveU Studio.
Recommended encoding setup
Container: MPEG-4 (.mp4) / MKV or WebM
Encoding: H264 or H265 (HEVC)
Audio Encoding: AAC
Frame size: Up to 1920x1080
Subtitle track: subtitle track embedded in VOD (.sub, .srt, .txt, .subt, ...) -> more info about the supported subtitles codecs
How to play the playlist in a workflow with several inputs?
Please note that it's imperative to start a media in the playlist by clicking on the play button (even if I have a short cut configured).
To switch from one playlist to another, please check that your second playlist is already started.
Next steps
Keep exploring
Can't find the right answer?
Contact the LiveU Studio Support team via our Live Chat.